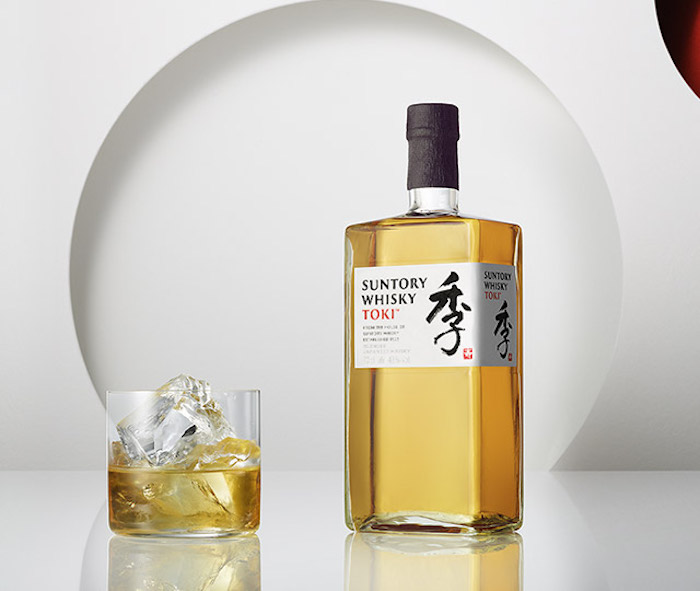 Whiskey review: Suntory Whiskey Toki
Editor's Note: This whiskey was provided to us as a review sample by Beam-Suntory. This in no case, by our editorial policies, influenced the final result of this review. It's also worth noting that by clicking the purchase link near the bottom of this review, our site receives a small referral payment that helps support, but not influence, our editorial and other costs.
Have you ever watched old Suntory commercials? Otherwise, I suggest you start with this one from Sammie Davis Jr. These wild, spontaneous and musical advertisements are a thing of the past. And while Suntory has taken a very different direction with their marketing, like the ad for Suntory Whiskey Toki here, they continue to make quality blends to keep the quantity available. Even beyond just making blends, they make their blends for specific regions. If you look at the web page for Toki you will notice that it is not available in much of Asia. This is because Toki was designed for the foreign palate, as they make Suntory whiskey (often referred to as Kakubin, literally translated as square bottle) for the Japanese palate.
Japanese whiskey really took center stage in 2010 when 21-year-old Hibiki and 21-year-old Taketsuru took the top spots at the World Whiskeys Awards respectively for the Best Blended Whiskey in the World and the Best Blended Malt Whiskey in the World. This was followed by several years by a Japanese whiskey which won the award for the best single malt whiskey in the world, something that had only been held by Scotch until 2012. These award streaks resulted in a sharp increase in demand for Japanese whiskey and hence a shortage. of product. While the blend has always played a vital role in whiskey across the globe, it was the tool that would allow brands like Suntory and Nikka to maintain production as demand soared, sadly dropping many. products with age declarations for their ranges.
Suntory Whiskey Toki is a blend of two single malts (Yamazaki and Hakushu) and one single grain (Chita). It was first launched in 2016 exclusively in the US market. It is important to realize the extent of Suntory's dedication to the art of blending. Even their single malt whiskeys are blended from a multitude of different distillates, with the resulting production of over 100 grain and malt whiskeys, all from just three distilleries. This great variety of whiskey turns into a total of five brands; Suntory, Hibiki, Yamazaki, Hakushu and Chita.
The extent of their dedication to the blend never struck me before visiting the Yamazaki Distillery and seeing their whiskey library, pictures halfway here. Each of these bottles documents a different barrel, with notes on the wort bill, size and shape of the still, type of barrel, and age. They document everything and work to create a library that their mixers can draw from as well as a historical archive to reference. While many blenders in Scotland had the opportunity to go to another distillery for the product, Japan was initially isolated. If they wanted the flavors they needed for the blend, they had to make them themselves.
So, as we see many age statements disappearing from Japanese whiskey bottles, we see products like Toki ramp up to meet the demand for these masterfully crafted products. And while Toki may not live up to the experience of sipping a finished Yamazaki in sherry casks or a 21-year-old Nikka, he serves his purpose of bringing the Japanese distillate to masses around the world.
Tasting Notes: Suntory Toki
Vital Statistics: blend of single malts from Yamazaki and Hakushu distilleries and single grain from Chita distillery, 43% ABV, around $ 30 per bottle
Appearance: This is a light straw color. The whiskey forms large balls which are spread out on top of each other around the glass.
Nose: Lemon oil and grain are apparent on the nose. The honeysuckle and caramel have a secondary note that gives depth to the smell of it.
Palace: I get a lot of sweet malt throughout the flavor profile. It has a brilliant lemony quality. There are lighter notes of honey and golden raisins. It evolves well and leaves a subtle crunchy finish. Adding water really brings out the richness of the grain. The finish remains fresh and crunchy. I find that the flavor profile is enhanced with a light mineral water like Topo Chico when making a highball.
Takeaway meals
Summary
While that makes it a perfectly fine sipper, I tend to look for something with a bit more depth when drinking it pure. It does remarkably well for cocktails and is my favorite highball. One part Toki for two parts sparkling water (or light mineral water) with a lemon zest is my favorite drink all year round. Although I occasionally try another whiskey in place of the Toki, I keep coming back for my highballs.