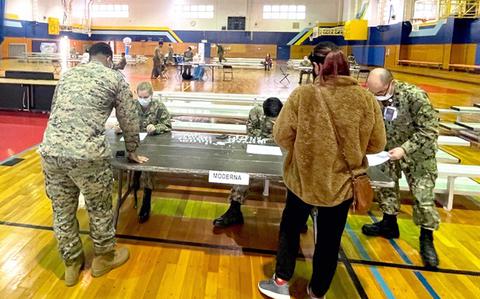 US military in Japan reports 446 new COVID-19 cases as Tokyo hits one-day record
TOKYO — Japan's capital reported its highest single-day tally of new pandemic cases, 8,638, on Thursday as it reimposed central government-approved coronavirus restrictions, according to Japanese media.
Tokyo's new record supplants the one set Wednesday at 7,377. The seven-day rolling average of new coronavirus cases that day was nearly 4,600, according to data from the Tokyo Metropolitan Government.
Nearly 40% of available hospital beds in the city were occupied, well above the 20% threshold set by Tokyo Governor Yuriko Koike for imposing measures to curb the spread of the virus.
U.S. Forces Japan reported Thursday that 434 people had tested positive for COVID-19 at 17 bases across Japan. 12 other people were awaiting confirmation. One person is hospitalized; no cases are considered serious. The command reported 331 infections on Wednesday.
Marine Corps Air Station Iwakuni near Hiroshima tops the list with 82 new cases. Kadena Air Force Base in Okinawa and Yokosuka Naval Base south of Tokyo came next with 74 new cases each, according to Thursday's USFJ update.
Kadena reported 806 active cases on its website on Thursday.
The U.S. Army in Japan, headquartered at Camp Zama southwest of Tokyo, said on Thursday another 159 people contracted COVID-19 between Jan. 12 and Wednesday, according to an Army press release. . Seventy had fallen ill before testing positive and 64 were close contacts.
Fifteen others were recent arrivals in Japan and still on restricted movement, according to the military. The other three presented themselves for the screening tests.
MCAS Iwakuni, 25 miles south of Hiroshima and a COVID-19 hotspot in early January, reported 77 people tested positive on Wednesday and five on Thursday, according to a basic news release. The air station has reported 851 infections this month.
U.S. service members, civilian employees, family members and Japanese healthcare workers on base lined up at the Iron Works gym on Wednesday for a recall of Moderna and Pfizer vaccines.
"I recently had COVID, and my symptoms weren't that bad," said Marine Lance Cpl. Franklin Padilla said Stars and Stripes on the line. "It gives me peace of mind knowing that by getting the vaccines, if I get COVID again, the symptoms will be much milder than if I weren't vaccinated."
During a COVID-19 task force meeting on Wednesday, Japanese Prime Minister Fumio Kishida declared a near-emergency for Tokyo and 12 other prefectures, including three surrounding the city. The emergency takes effect Friday until Feb. 13, he said. Prefectural governors can set measures tailored to local circumstances, according to the order.
Shigeru Omi, chairman of the government advisory committee that recommended the emergency declaration, told reporters that rather than restricting the movement of people out of their homes, the measures should focus on limiting the size of groups in the bars and restaurants, according to the Asahi newspaper on Wednesday.
The Tokyo government said Wednesday it was encouraging bars and restaurants that take certified anti-viral measures to operate between 5 a.m. and 9 p.m., but limit alcohol sales between 11 a.m. and 8 p.m. Uncertified businesses should operate between 5 a.m. and 8 p.m., but not serve. alcohol.
The metro government has also asked residents to stay at home as much as possible and avoid crowded areas.