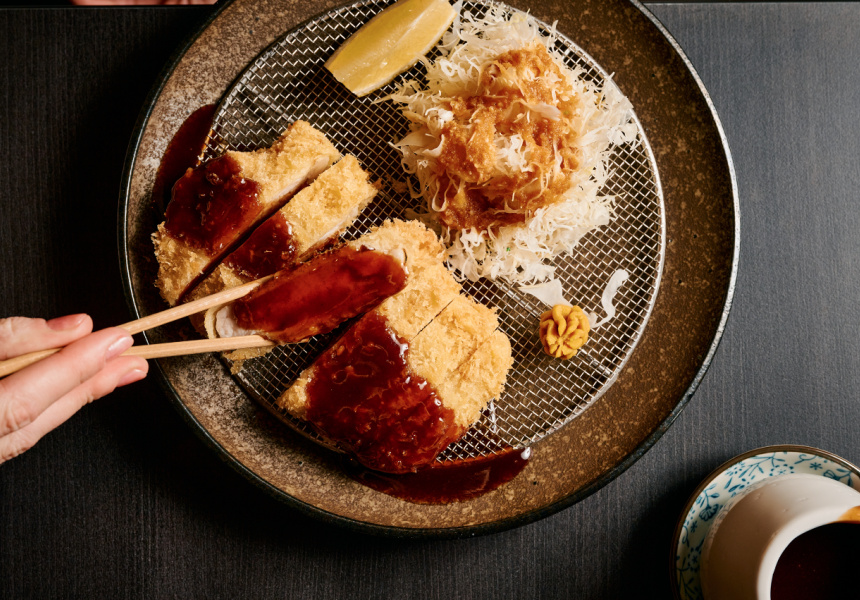 Twice-fried tonkatsu is king at Ichi Katsu, Glen Waverley's lively new Japanese restaurant
In 2020, Lulu Gao and her husband Hansson Shen opened their first restaurant, Marble Yakiniku, in Glen Waverley – a stylish barbecue-focused Japanese restaurant where Wagyu is the star. Now the couple have focused on tonkatsu, opening a second, more relaxed restaurant in the same suburb called Ichi Katsu.
"After opening Marble Yakiniku, we had ideas for a katsu store, targeting a younger crowd," Gao says. Large format. "It's totally different…it's got an open kitchen and it's more laid back and fun."
Here, tonkatsu (breaded and fried pork cutlet) is king – served as is with shredded cabbage and rice; in soft white sandos; or as a curry with your choice of rice or udon noodles. Also find shrimp katsu sandos, as well as fish katsu made with snapper and fried oysters.
"Katsu dishes are usually served with our special house tonkatsu sauce, which is a bit like thick, dark vegetable ketchup," says manager Shaun Oh, who also worked at Marble Yakiniku.
"We fry the pork twice using a fryer we ordered from Japan, which fry it at a lower temperature to give you nice, juicy meat."
For a snack or entrée, try izakaya classics such as beef-tataki salad (made with Wagyu), pan-fried gyoza, tofu ageshi, or unagi katsu (fried eel). The fried roll with cheese and pork belly is a must. For dessert: yuzu sorbet and black sesame ice cream.
Kingsway's bustling space — with warm lighting and wood paneling — can seat around 50 people, with outdoor seating coming soon. Additionally, an izakaya-style bar serving a range of cocktails is also planned, pending liquor license approval.
ichi-katsu

97 Kingsway, Glen Waverley

(03) 9560 9860
Hours:

Tue to Thu 5pm to 9.30pm

Fri & Sun 11.30am–2.30pm, 5pm–10.30pm
ichikatsu.com.au

@ichikatsu