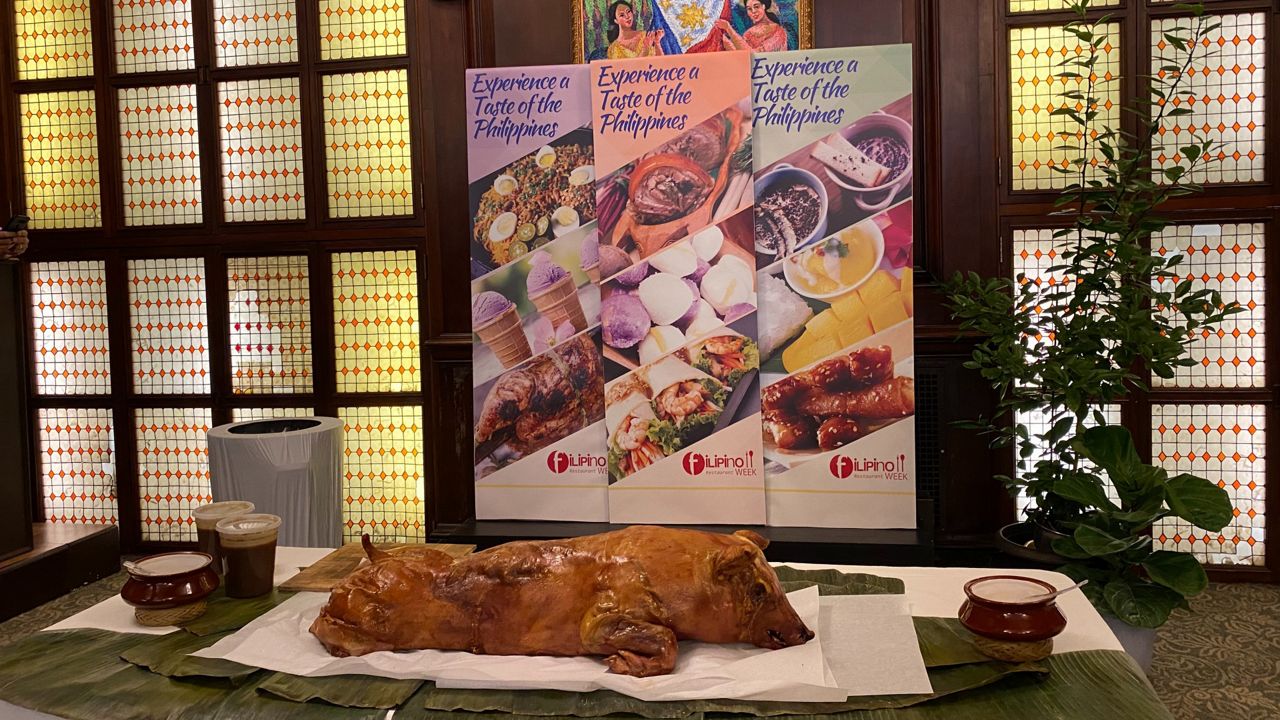 The push to make Filipino food mainstream in New York City
Nicole Ponseca has spent most of 20 years trying to bring Filipino food to the "culinary table".
Before becoming a restaurateur, she was advertising manager by day and dishwasher, hostess and waitress by night.
"Anything I could do to learn this trade because 90% of restaurants fail in the first year," Ponseca said. "And there are very few, if any, women and people of color who own and run a successful restaurant."
This hard work eventually led her to own two Filipino restaurants in Manhattan's East Village in 2012 – Maharlika and Jeepney.
Although both places grew in importance, they even considered two of the "Best Filipino restaurants in town" and acclaimed for Ponseca's vision on modern Filipino cuisine, they are now closed.
Maharlika closed in 2019 after nine years and Jeepney closed on September 25, also after nine years.
Raising Filipino food to the level of popularity in New York City that its Asian counterparts like Thai, Japanese, Chinese and others are familiar with has been a multi-year journey for so many restaurateurs.
And while COVID-19 has severely affected the restaurant industry at all levels, Filipino restaurants have faced unique challenges in their take-out pivot due to the relative ignorance of the cuisine.
"The number one struggle is, right now, Filipino cuisine is still not quite up to par with Chinese, Japanese, Korean, even their Southeast Asian counterparts, like Vietnamese or Thai, "said Jappy Afzelius, owner of Tsimis, a Filipino. American restaurant and wine bar on the Lower East Side. "We are so far behind. We are always considered to be something exotic.
This means that when the city turned to take-out during the pandemic, Filipino food was not necessarily at the top of customer lists, Afzelius said.
"It's not, like, a daily meal," he said. "When you're at home in your apartment, you talk to your girlfriend and you're like, 'Let's go eat Asian today'. All right, what do we want? Chinese? Thai?' Filipinos are slowly entering this conversation.
There are currently 37 Filipino restaurants in the five boroughs, according to the Department of Cultural and Public Diplomacy of the Philippine Consulate General. Five of those restaurants closed during the pandemic, including Jeepney.
Since many people are unfamiliar with Filipino cuisine, when they visit restaurants they come to experience the full Filipino culture, something a diner cannot achieve with take out.
"We offer the full experience – once you step into the Filipino restaurant, not only do you feel the Filipino hospitality, the warmth of the people there as well as the richness of our cuisine," said Arman Talbo, Supervisor of cultural and public diplomacy. at the Philippine Consulate General in New York. "It's not common yet, but we're definitely on the right track."
Over the past decade, familiarity with Filipino food has grown, according to people in the industry.
When Ponseca entered the restaurant business, Filipino cuisine was a much more foreign concept. A tasty Filipino delicacy, balut or fertilized duck egg, was even featured on the reality TV show "Fear Factor" in 2002.
"Where we were 10 years ago is not where we are now," Ponseca said. "Serving an offal barbecue might have been very shocking before or me serving balut openly and proudly and loudly, was very different, or chicken feet. All these dishes had a cloud on them.
She credits her restaurant and other Filipino restaurants – and even celebrities like Anthony Bourdain – for helping to change perceptions.
There are also initiatives such as Filipino Restaurant Week, which started in 2015 and which Ponseca helped organize with the Philippine Consulate. It takes inspiration from New York Restaurant Week with its prix fixe menu and serves as a way to raise awareness of the Filipino food scene and network for members of the community.
Although familiarity with Filipino cuisine has improved over the years, opening and operating a Filipino restaurant is still not easy, according to experts.
Not only does opening a restaurant carry typical risks such as access to capital, hiring the right staff and even physical labor, unfamiliarity with food and an emphasis on cooking French or Italian in the culinary world add another obstacle.
"I remember getting recommendations from people saying, 'Oh, you should put pictures of the food on the menu,' Ponseca said of the opening of its restaurants. "But I've never seen that in Italian restaurants or French restaurants."
Afzelius received his culinary training in France and eventually his master's degree in Italy before opening Tsimis in 2013.
"It took me a while to get back to Filipino cuisine, but I'm happy that this is the career path I have chosen as it makes it even more personal for me now that I can share what I do. loved growing up, "he said.
While COVID-19 negatively impacted Jeepney, whose clientele was heavily based on tourism, the decision to close had actually taken years.
Without the financial support of a large catering group, she found herself limited in the type of service she wanted to run, she said.
"I opened with so little money that sometimes I felt bad when people came from all over the world and didn't feel like I was delivering to a level that I know possible," she said. .
She found herself huddled in Jeepney's basement, handling reservations and as early as 2016 wondering if running the restaurant this way was the right decision.
"I wondered, as well as to the universe and to God: 'Is this my trajectory? Am I indebted for running the restaurant like this? ' " she said.
COVID provided that sign for Ponseca, whose father died of coronavirus in December.
Even for restaurants that have remained open, recovery from losses from the pandemic continues.
"It's been a struggle so far and we're still trying to attract customers and bring back sales compared to 2019," Afzelius said. "We are far from normal.
Still, Ponseca and others are hopeful and optimistic about the future of Filipino food in New York City, despite the ups and downs of the industry.
Although five Filipino restaurants closed during the pandemic, three restaurants have opened: Tradisyon and Bilao in Manhattan and Kuya's Lechon in Queens.
Ponseca is currently focused on operating its Jeepney location in Miami, which it opened in January, and launching its food on Goldbelly, an e-commerce platform for restaurant food that exploded during the pandemic. This means that in October, New Yorkers will be able to order their favorite Jeepney dishes like lumpia, barbecue and pancit.
And while she doesn't set any expectations for herself, she's open to what the future may hold for herself and other Filipino entrepreneurs in New York City.
"There are so many more people in the culinary arts and now they're saying, 'Hey, I wanna make my own food. I don't want to cook someone else's food, "Ponseca said. "We will likely see more Filipino restaurants in the next two, three, four or five years, which will make a dent in the kitchen in New York and beyond."