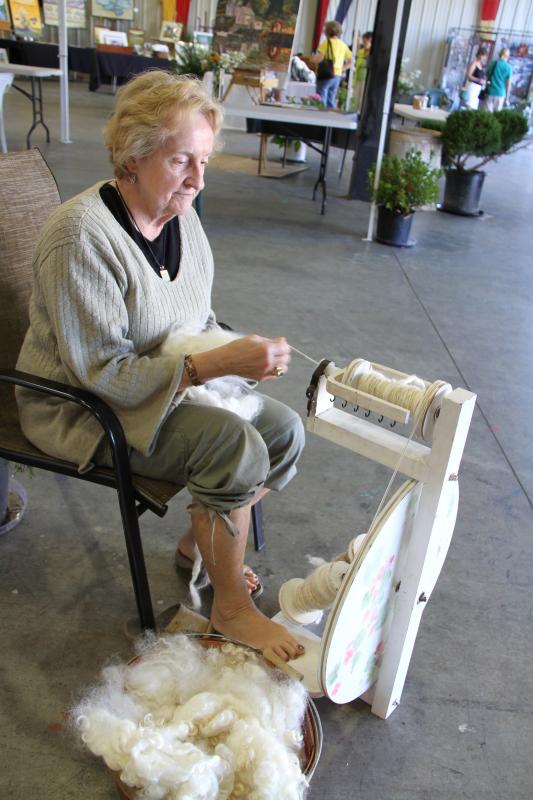 Sale for the love of art next weekend
The Art For Art's Sake exhibition and sale will take place from August 12 to 15. This favorite event for locals and visitors alike kicks off on Thursday August 12th, but not at Hodgdon Yachts. For this year only, the location has been changed to the Marylouise Tandy Cowan Field House at the YMCA of the Boothbay area.
Organizer Leslie Muir-Volpe explained, "Hodgdon Yachts made the early decision not to host events at the shipyard due to COVID. They have planned many maintenance / painting projects for the boathouses. Then everything opened up, but they had already planned to use the hangars, so we had to find a new place for this year.
The event opens with the artist preview sale on Thursday, August 12 from 5 p.m. to 7 p.m.
If an asterisk appears in front of the artist or craftsman name, that person will be doing live demonstrations on Saturday August 7th. Artists and craftspeople include artist Christine Thalia Andersen, oil paintings exploring the Midcoast region and people, past, present and imaginary; Elise Andersen, Andersen Studio: handcrafted ceramic, fiber art, paintings and prints; André Benoit, outdoor painter, sculptor assembler using recycled wood; * Jill Butke, fiber artist / weaver: unique hand-woven cotton and wool garments; artist John Butke, paintings inspired by the ever-changing colors and shapes of Maine landscapes; Martha Cowdery and Michael Tomko / At Roads End, Craftsmen / Designers: locally sourced and unique sea glass creations inspired by Maine and original hand painted mops; * Rick Dickinson, Traditional American Impressionist: Original oil paintings in a classic New England style;
Lois Glaser, fine art photographer: nature, landscapes and abstracts; real estate photography; Don Josephson, American expressionist painter; Diana Kerr, designer / painter / creator: unique decoupage pieces and hand-painted objects; Nora Lally, succulent gardener: living works of art; Jeanne Lally, artist: ocean-inspired paintings including gesso and acrylic on wood panels and batik watercolor paintings; * Leslie Muir-Volpe, fiber artist: miniature quilts, needlepoint embroidery, unique fabric keepsakes; * Suzanne "Sanny" Norton: jewelry, wall hangings, hand-painted furniture, assemblage of wire and sea glass;
* Fran Scannell, Southport Outdoors Painter: Evolving Artworks of Maine People and Places; Lynne Seitzer, artist: oils, pastels, watercolors and inks; * John MT Seitzer, artist: oils, acrylics, pastels, mixed media, watercolors, 3D; * Ursula Smith, weaver: hand-woven textiles for the home; Betsy Wing, author and visual artist specializing in fiction and monotype prints; Jess Wrobel, textiles and decoration: handmade, vintage, primitive.
The sale has been an event of the Lincoln Arts Festival since 1995. The 2021 hours are Friday August 13 and Saturday August 14 from 10 am to 5:30 pm; and Sunday, August 15 from 10 a.m. to 3 p.m. Due to CDC guidelines, a face mask is required if not fully vaccinated. The Field House is located at 261 Townsend Ave., Boothbay Harbor.
For more information call 633-3913 or email [email protected]