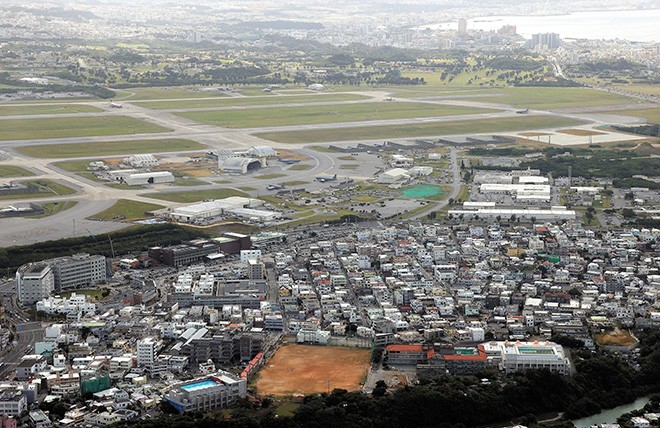 PFOS exceeds state set levels at 38 sites near U.S. bases
NAHA – Water quality checks near U.S. bases in Okinawa Prefecture found alarming levels of a suspected carcinogen and other substances at 38 locations, more than 70 percent of 49 locations surveyed .
In all of these cases, the levels of toxic materials exceeded the criteria established by the government.
In its guidelines on the quality of drinking and river water, as well as groundwater, the Ministry of the Environment sets an interim objective to limit the combined presence of perfluorooctane sulfonic acid (PFOS) and other substances to a maximum of 50 nanograms per liter of water.
On December 27, Okinawa Prefecture released the results of regular water quality checks around US bases that began in fiscal year 2017. Authorities collected samples there between August and October in places that are not used for drawing drinking water.
The results showed that the level of PFOS and other substances exceeded the ministry's target at the 14 sites surveyed near the US Kadena Air Base, which straddles Okinawa, Kadena, Chatan and other municipalities in the prefecture. more to the south.
The level of PFOS and other substances also exceeded the target at 11 of the 20 sites surveyed around the United States Marine Corps Futenma Air Force Base in Ginowan. The base released water contaminated with PFOS into the city's sewage system in August.
Over 1000 nanograms of PFOS and other substances per liter of water, 20 times more than the target, were detected at eight sites near the two US bases.
A water quality check on a sample taken from groundwater flowing under a private house in the town of Kadena found the level of PFOS and other substances to be 2,300 nanograms per liter, or 46 times more than the government level.
Japan, in principle, banned the manufacture and use of PFOS in 2010. The substance had been used in fire fighting foam.
The central and prefectural governments have asked the US military to allow them to conduct on-site inspections at its bases.
But those demands have fallen on deaf ears, leaving authorities unable to determine why PFOS and other substances were detected during local water quality checks.