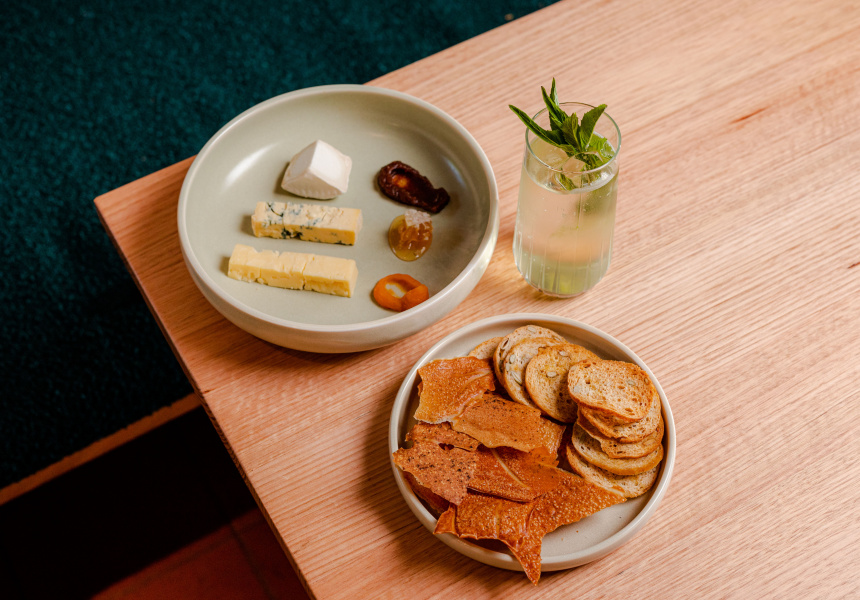 Old Young's Kitchen, a new wave distillery diner run by an avid long-time chef, opens in the Swan Valley
The past still holds hands with the present: just ask Rohan Park. As a teenager, he boarded in the Swan Valley for a year while finishing high school. Now he's back in WA's oldest wine region to lead the team at Old Young's Kitchen, the accessible yet ambitious restaurant at the Old Young Distillery. Taking over the former site of Rustique, this elegant and casual dining room has a long lunch written all over it.
Although this is Park's first gig to lead the kitchen, his CV reads like a Western Australian restaurant best-of and features top wine restaurants (Leeuwin Estate, Wills Domain and Arimia) as well as fine restaurants CBD Wildflower and Fleur. Most important, however, is the "second apprenticeship" of the three years he spent with the traveling food pop-up fervor: an opportunity not only to delve into the world of native Australian ingredients, but to revisit regions such than Kununurra and Broome he experienced growing up.
"Everything is a round circle," Park explains. "I was boarding a five minute walk from my partner's house and was able to go up north as an adult and enjoy these places where I spent time. Everything is fortuitous."
Although many cooks like to say their food is a reflection of themselves, Park's life story seems to translate particularly well to the plate. The broccolini and verjuice dressing, on the other hand, is a throwback to its (now closed) Watershed days in Margaret River. His olives and olive oils come from groves in the Frankland Valley, another nod to his years in Southwestern wine restaurants. (You could argue that crowd-pleasing dishes, including jamon croquettes, fries, and chorizo, were also borrowed from the cellar restaurant's playbook.)
Our man's interest in Japanese cuisine is reflected in his prolific use of koji – a mold used to make sake, soy sauce, miso and other fermented foods – as well as an excellent act of udon. hot, kimchi and cream cheese. (According to Park, this savory bowl of comfort is the result of cleaning out the fridge at home after 3 a.m. service one morning.) Also from the delicious riffs on kimchi department: the fermented coleslaw with limes, tomatoes and samples of grilled nori, contributed by Park's head chef in the kitchen, Glenn McCue.
But, for me, the biggest wow moments on the menu tend to involve indigenous ingredients. Raw kangaroo dressed in pork garum served with youlk (native tubers) for crunch. The way a native shallot ketchup made with fermented acacia seed chili and native lemongrass oil sparked sweet scallops. It's not just the taste of these dishes that is worth writing about, but Park's commitment to respectfully sourcing these ingredients. What he doesn't grow himself or get from family and friends, he sources from Dale Tilbrook of the Maalinup Aboriginal Gallery (literally) down the street.
"Being a TO [traditional owner] herself, she [Tilbrook] does it out of love," Park says. "I know that if I buy from her, the money goes to the right places. To the ladies in South Australia who buy bush tomatoes. To the traditional owners of Tasmania where my pepper berry is from. I do not go through an intermediary who adds a 300% markup.
Maalinup isn't the only local business supported by Old Young's Kitchen. Aside from Old Young spirits, patrons can sip Swan Valley wines, beers and ciders as well as a small selection of non-alcoholic options.