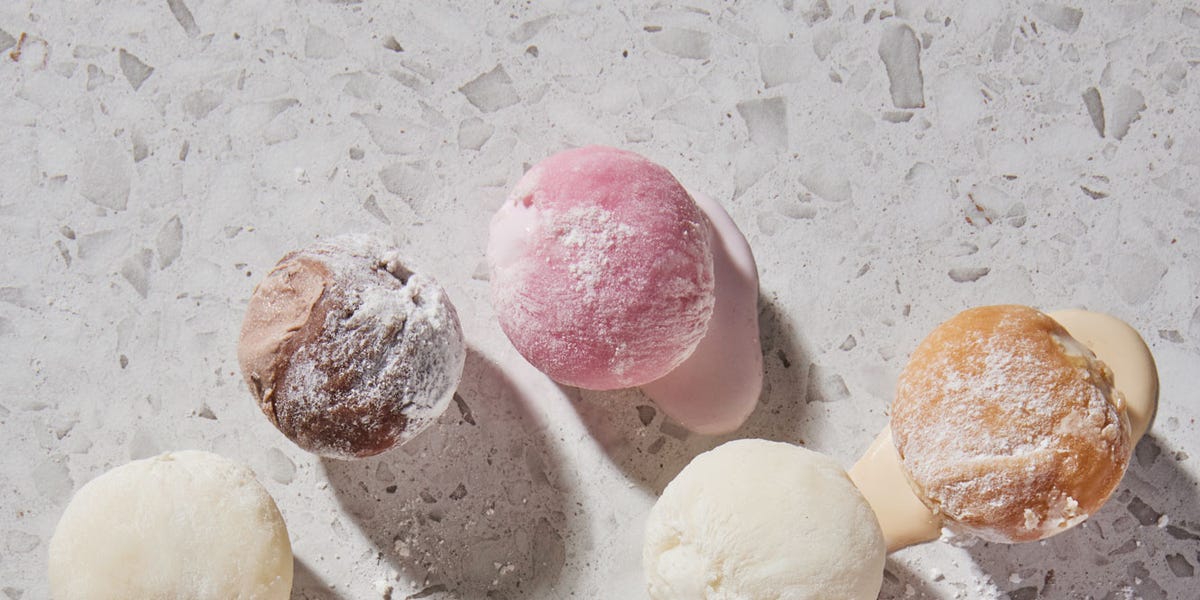 Mochi ice cream is the big cold
YesA few years ago, I had my first manju, a traditional Japanese confectionery, at Benkyodo, a shop in the Japanese district of San Francisco. It was mochi manju – sweet sticky rice (that's the mochi part) around an even sweeter red bean filling. I thought it was delicious, but the combination of the gum from the mochi rice and the grain from the bean mash isn't for everyone. In the 1987 independent film Live on Tokyo time, directed by Oscar-winning filmmaker Steven Okazaki, the hero, Ken, an overassimilated third-generation Japanese-American like me, walks into a candy store just like Benkyodo looking for a jelly donut and is offered a manju in place. "That sounds weird," Ken said. "I would prefer a donut."
This article appears in the Fall 2022 issue of Alta Journal.
SUBSCRIBE
Although Japanese food items like sushi and ramen can be found almost anywhere, manju remains a culinary exception, even among many Japanese Americans. For many dessert lovers in the United States, its main meaning is to inspire the national sensation that is mochi ice cream. In the early 1990s, Frances Hashimoto, head of Mikawaya, a Los Angeles-based manju confectionery, began tweaking the traditional recipe into a more accessible dessert. She replaced the traditional red bean paste with scoops of ice cream, and mochi ice cream was born.
The original Mikawaya store in Little Tokyo had been owned by Hashimoto's family since William Howard Taft was president. The confectionery served traditional handmade desserts with lines dating back to the 14th century. Hashimoto was born in 1943 in the Japanese-American internment camp in Poston, Arizona, and grew up in Boyle Heights in Los Angeles, then a Japanese-American enclave. A graduate of the University of Southern California and a former elementary school teacher, she probably had a lot of Kens in mind when she created mochi ice cream.
It was a pretty radical idea at the time. Few non-Japanese Americans had even heard of mochi. And why would you want to ruin a perfect scoop of French vanilla by wrapping it in a thick skin of sticky sweet rice? Beyond the weirdness of the combo, there were the logistics to consider: how do you fill the mochi before the ice cream melts without all that sticky rice sticking to your fingers? (Answer: Move quickly, and cornstarch.)
Hashimoto devised the frozen concoction with the help of her husband, Joel Friedman, who came up with the idea while on a trip to Japan. In the mid-1990s, they began selling the candy at Mikawaya's flagship store, where it became a top seller.
Mochi ice cream transformed Mikawaya into a dessert destination in Little Tokyo, a generation before boba shops, Taiwanese pastry shops and Hawaiian shave ice vendors took over big city neighborhoods and shopping malls in the suburbs. Shortly after moving to Los Angeles, when looking for a sweet treat at the Japanese Village Plaza, there were imagawayaki — red bean cakes served hot on the griddle — at Mitsuru Café, Mikawaya's mochi ice cream, and not much else. If it was hot outside, the choice was clear.
At first, Mikawaya's mochi ice cream offerings were limited to your American standards (chocolate, vanilla, and strawberry) and Japanese favorites (green tea and, perhaps in a nod to manju roots, red bean). Before long, however, the company added more flavors to the mix, including plum wine, black sesame, and matcha.
Hashimoto's creation was so lucrative that three years after his death in 2012, a private equity firm purchased the company. Originally sold in Mikawaya stores in American cities with large Asian populations, such as Torrance and Gardena in Southern California and Honolulu, Mikawaya mochi ice cream can now be found on the freezer shelves of Japanese grocery chains like Nijiya and Marukai as well as Whole Foods, Target, and Trader Joe's. Alas, the original Little Tokyo flagship store closed in 2021, after 111 years in business. (Unfortunately, after 115 years in San Francisco, Benkyodo also closed in March of this year.)
As part of the late 80s Live on Tokyo time, Ken has two options in this confectionery: jelly donut or manju. And whoever he chooses has cultural implications, especially for the manju-shop guy (played by Lane Nishikawa, a fellow third-generation Japanese who was also the artistic director of San Francisco's groundbreaking Asian American Theater Company). What kind of Japanese would eat a jelly donut when they could choose a manju? In the end, Ken is persuaded to choose the manju and isn't very happy about it. Today, of course, he could have mochi ice cream and live in the best of both worlds.•