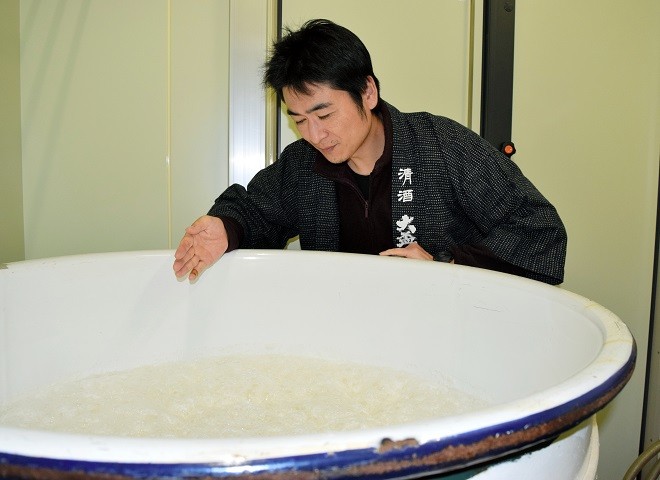 Gunma sake brewery polishes trophies instead of grains of rice
TAKASAKI, Gunma Prefecture—A long-established sake brewery here has gone against the grain in the production process, but continues its winning streak.
"In today's sake industry, local breweries mostly remove 50-60% of rice grains to produce their flagship products," said Kenjiro Makino, general manager of Makino Brewery Inc.
He said that these products lack individuality and diversity.
"They polish the rice too much. Delicious sake can be made without polishing," he said.
For about five years, Makino has been making sake by removing only 20% of the rice grains.
Makino Brewery received the grand prize in the "junmai-shu" (pure rice sake) category at the 92nd Kanto-Shinetsu Sake Awards held by the National Tax Agency in 2021. This was the second year consecutively that the brewery won this honor.
Founded in 1690, Makino Brewery has won more than 20 sake awards with its Osakazuki brand at tax agency events and at the Zenkoku Shinshu Kanpyokai (Annual Japan Sake Awards), the country's only national sake competition.
Makino, 43, became the company's 18th generation "toji" master brewer in 2019.
After graduating from Tokyo University of Agriculture, he learned sake brewing at a brewery in Shizuoka Prefecture before returning home at age 24.
Sake brewers from Niigata Prefecture, home to the largest number of breweries in Japan, as well as Nagano, Gunma, Tochigi, Saitama, and Ibaraki prefectures compete in the Kanto-Shinetsu Sake Awards.
Makino Brewery received the second best special award in 2019.
"We missed first place by a narrow margin," Makino recalled. "I think (we won the 2020 award) as a result of tasting the 2019 Grand Prix-winning sake, analyzing what ours was missing, and adding changes."
The quality of sake is different every year.
Makino's award-winning sake produced in 2020 had a comfortable aroma and a smooth, rich flavor, but the sake produced in 2021 had a beautiful aroma and a light flavor, he said.
"The malted 'Koji' rice and the way the rice is washed are crucial in brewing sake," he said. "Technologies are changing with every passing day, and what consumers want is also changing. We have made all kinds of efforts without fear of failure.
The rice grains are polished to remove unwanted components for sake brewing. But Makino believes that the more polished the rice, the more artificial it becomes.
The brewery aims to make its main products with rice grains of which 10 to 30% are polished.
"In our time, a challenge for sake brewing is to achieve diversity. I want to do different things from others," Makino said.
The outer layers of rice grains contain high concentrations of proteins, fats and other nutrients, so the fermentation process is accelerated if much of these layers remain unpolished.
Different brewing techniques are needed to remedy the situation.
"(These products) only represent a small proportion of all our shipping products, but we've had good responses from stores specializing in locally brewed sake," Makino said.