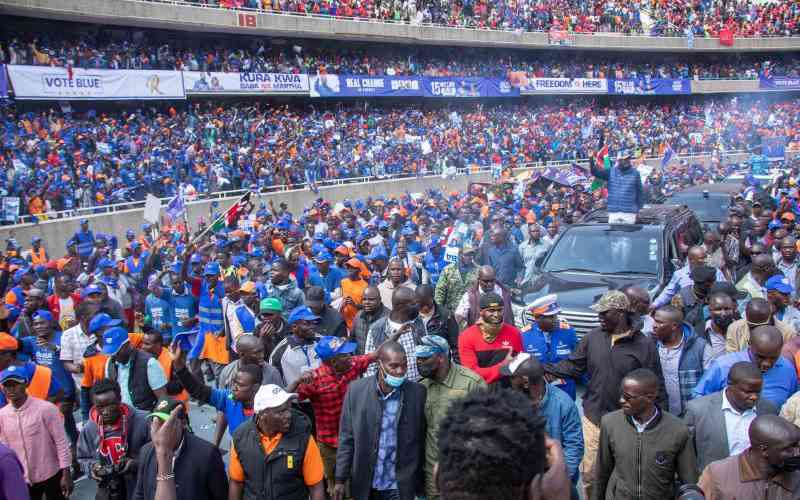 For Kenya I will shake hands with my rivals whether they win or not
The question we face today is: who has a safe pair of hands to finish what we started on Saba Saba?
First of all, I would like to thank my fellow citizens for keeping the flames of freedom burning in our country. Thank you also for being by my side during the many years of struggle to liberate Kenya. Thank you for the battles we fought together.
The trip was long. But I didn't fight alone or feel alone. We fought together.
By voting for Martha Wangari Karua as our next Vice President, you will have a full army to fight for you and our country.
It's something you won't find on the other side. There are no fighters or fighting spirit on the other side.
There is no known fight to make Kenya a better place that has been fought by the people on the other side. The fighters for a better Kenya are on this side.
We don't just run to win an election. We race to make Kenya a world class democracy and economy. We run to build a Kenya of hope and opportunity; a Kenya not made up of 45 individual tribes but of one large Kenyan tribe.
Today, I am not proclaiming a celebration but issuing a battle cry. As the Christian hymns tell us; "The long dark night is almost over, and the morning will soon dawn."
Next Tuesday, all Azimio supporters must be at their polling station by 6 a.m. and vote. August 9 marks the 7th multi-party election in Kenya.
Historically, the number 7 is a symbol of completion and new beginnings. God rested on the 7th day after completing his work. Joshua circled the wall of Jericho 7 times for the wall to fall and pave the way for a new beginning.
Pilgrims to Makkah circle the Kaaba seven times to achieve healing and reconciliation with Allah.
On Tuesday, in the 7th multi-party election, we will mark the year of completion and new beginnings.
I must also remind Kenyans that we started this struggle on Saba Saba day; the 7th day of the 7th month of 1990.
On that day we declared that the walls of dictatorship must fall. The walls of corruption must come down. And the walls of impunity, injustice and exclusion must come down. Tuesday we finish what we started on Saba Saba day. And fate has designated the 7th multi-party election as the date of this completion.
The question we face today is: who has a safe pair of hands to finish what we started on Saba Saba?
What hands will dismantle the bandit economy of corruption? In whose hands are your families safe? When you look at your children, who do you really think makes sure you have the ability to give them the best they deserve?
Who do you think will hold the country together, regardless of the election results? Is it the man who shook hands with his bitter rival and brought national reconciliation and healing or the hand of the warmonger who is a deviant and convicted thief?
Which hand will you trust to provide social protection for the poor?
The Auditor General tells us that 800 billion shillings are stolen every year because of corruption. The amount is twice the economy of two of our neighbors in the East African Community.
Who do you think is best qualified to take down this cartel of thieves?
Dear Kenyans, People have asked us how we are going to give 6,000 shillings to poor families. But that's not the right question.
The question we should ask ourselves is how a few corrupt people got paid 800 billion shillings every year from our budget. How could the government afford it? How did these people defraud us?
If we could afford to pay 800 billion shillings to crooks, we can afford to pay a mere 6,000 shillings to known and real Kenyans struggling with life.
What these families need is a direct injection from the government. These families need direct government funds to feed their children.
So in the first 100 days, my government will start paying 6,000 shillings to families living below the poverty line.
And we won't stop until they reach a place where they can feed their children without our help. This is what we call social protection.
As you head to the polls on Tuesday, I want you to know that we, as a country, are at an inflection point. Either something very good will happen or something terrible will happen.
We have the choice between the Promised Land, but the Land of Slavery is also within sight. Pharaoh refuses to let our people go.
We left the land of bondage on the day of Saba Saba in 1990. On that day we declared this: "…Let my people go…!
Today, I repeat the same statement "…Let my people go". Free them from the slavery of thieves. Free them from the bondage of liars. And free them from the links in the chain of corruption.
We are soon entering Canaan and there are some rules that we must observe. In Canaan, we must embrace reconciliation. We cannot come to Canaan, a divided nation that is half bitter and half happy. In my government, there will be no revenge. I promise to be the president of all. I made this decision because I did not choose my cause for release. The cause of liberation chose me.
And when I was tempted to run away, the cause always found me. This is why I have always found a place in my heart to reconcile. I shook hands with Mzee Moi in March 2002, President Kibaki in February 2008 and my brother President Uhuru Kenyatta in March 2018.
I want to assure Kenyans that I will continue with this doctrine of the handshake, the doctrine of unclenching the fist.
In the interest of Kenya, I will shake hands with my rivals and pay the political price if necessary.
I will shake their hands if I win. And I'll shake their hands if I don't. And I will because I love Kenya more than I love Raila Amolo Odinga.
Dear Kenyans, make your arrangements to vote on Tuesday. Let's vote early. Let's win early. I need the vote of all of you reading me now. Choose your own president.
The writer is the presidential candidate of Azimio-One Kenya