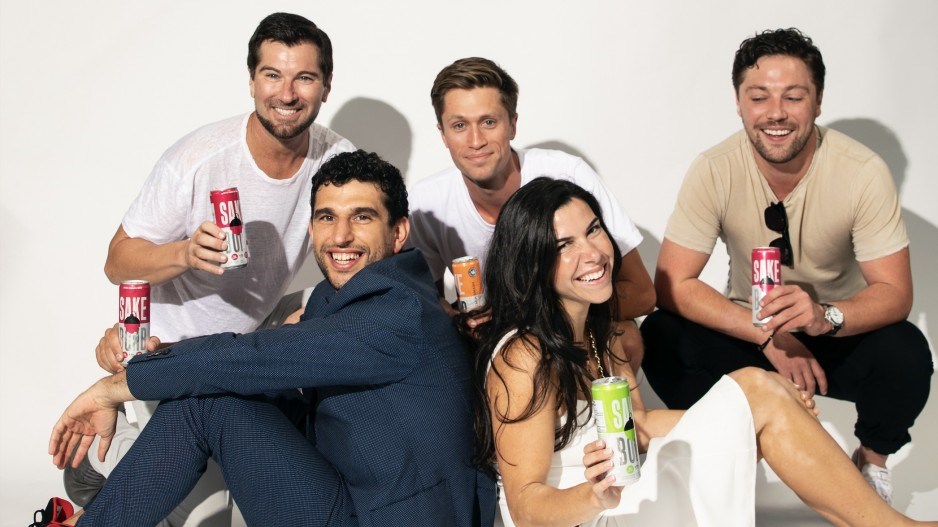 Entrepreneurs' sake cooler aims to disrupt BC liquor market
Five entrepreneurs are aiming to disrupt the BC wine cooler market with an innovative product they call SakeBomb – a line of flavored rice wine-based coolers, or sake.
Five entrepreneurs are aiming to disrupt the BC wine cooler market with an innovative product they call SakeBomb – a line of flavored rice wine-based coolers, or sake.
Sales kicked off a few weeks ago at about 80 privately-owned liquor stores, and Bomb Beverages Inc. CEO Stefana Prodea told BIV that sales topped $120,000.
Bomb Beverages is also looking to expand outside of British Columbia. It has engaged Southern Glazer's Wine and Spirits to distribute products in Ontario and potentially other provinces and the United States.
So far, all of the company's 648,000 cooler cans have been made under contract at Central City Brewers + Distillers in Surrey.
The inspiration for the product came when Prodea moved part-time from British Columbia to Austin, Texas and met Joseph Legere, who had invested in a brewery that had purchased a sake production facility in order to acquire their equipment.
Prodea knew Jerin Mece, who co-founded the sugar-free, sweetener-free Nude Vodka Soda in mid-2017, and has had phenomenal success.
She suggested to Legere that there might be a market for a sake-based cooler and Mece came on board to co-found the company, alongside Prodea and Legere. Andrew Murdoch, who has experience in commercial transactions, also helped co-found the company, as did Dan Southan-Dwyer, director of Fairfax Partners Inc., who helped raise capital, Prodea explained. .
The group's first round of funding raised $3.5 million from what Prodea described as "dozens of angel investors".
They nominally incorporated the company in Stoney Creek, Ontario, where Prodea's parents live, but no operations are conducted there. They plan to open an office near Yaletown in Vancouver soon, Prodea said.
The team hired an experienced beverage producer to create recipes for the coolers, which so far include flavors of raspberry yuzu, ginger lime and peach.
They also hired a part-time marketing coordinator and a few people to find private stores willing to sell the product and handle distribution. Ten other brand ambassadors were hired to pour out the product as samples to shoppers in stores.
The rationale for entering the industry was partly because the market for what the British Columbia Liquor Distribution Branch considers "refreshing" beverages had been very strong.
Refreshments saw year-over-year sales growth of up to 42.5% in some fiscal quarters during the pandemic – partly due to increased sales in volume and partly due to due to an expanded range of product offerings.
However, the most recent data show a decline in sales in this category.
In the three months ended June 30, British Columbians spent $122,942,628 on soft drinks, down $9,627,324, or more than 7.2% from $132,569,952 in the same quarter in 2021.
The niche category of wine and fruit coolers saw an even steeper decline. British Columbians spent $2,034,549 in the quarter ended June 30, down $255,296, or more than 11.1%, from the same quarter in 2021.
What may have caused this slowdown is that soft drinks tend to sell better in hot weather. British Columbia in 2022 experienced a cooler than average spring, while in 2021 the quarter included the June 2021 heat dome, which shattered temperature records and helped spark the fire that incinerated the town of Lytton.
British Columbia played a role in the creation of the soft drinks category
British Columbia played a role in the invention of the soft drink category, as Anthony von Mandl, owner of Okanagan-based Mark Anthony Group Inc., created Mike's Hard Lemonade in 1996.
In 2015, von Mandl sold the Canadian and international rights to the drink to Labatt for US$350 million, in a deal that included Palm Bay vodka coolers and Okanagan Premium ciders. VBI published this profile of von Mandl in 2014, about his rise from being virtually penniless to owning a business that went on to generate $500 million.
Von Mandl in 2016 added more innovation by creating the White Claw spiked spritzer, launching the drink in the US and seeing it become a blazing sensation.
He had to wait until 2020 to launch the drink outside the United States because his 2015 deal with Labatt included a five-year non-compete clause.
The Canadian release of White Claw in early 2020 felt like "a new iPhone launch from Apple, with hundreds of fans lining up around the block," Scott Walton, president of the Mark Anthony Group's wine and spirits division, said. Told VBI Last year.