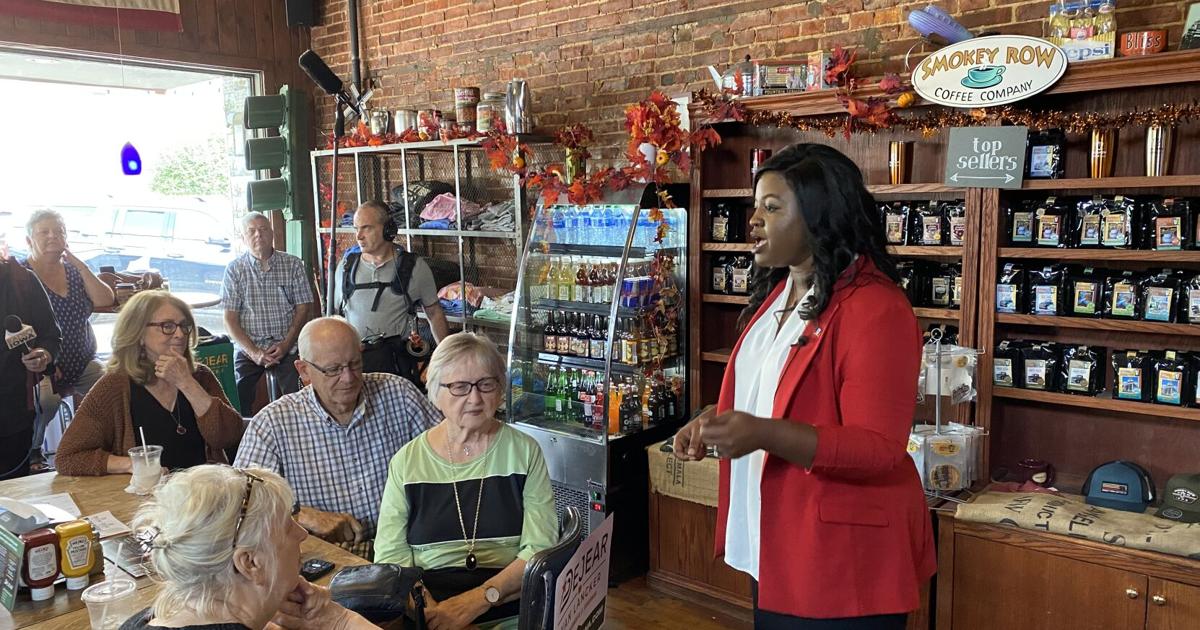 Democratic gubernatorial candidate Deidre DeJear strains at Pella | Local News
PELLA — Iowa Democratic gubernatorial candidate Deidre DeJear says Iowa "has never been short-sighted" — but this time is different.
Des Moines businesswoman DeJear is running against Republican incumbent Kim Reynolds in the upcoming general election. Reynolds has been governor of Iowa since 2017.
"We have leaders who don't want to turn on the lights, and who we need to shut down for education, for access to health care and mental health care, for access to our freedoms, for us to be to be able to drink clean water, strengthen our communities and grow. That's what's at stake in this election cycle," DeJear said.
DeJear made 10 stops in Pella on Tuesday, including visits to local businesses, the Career Academy of Pella and Central College. She says no matter where she speaks to voters in the state, education is an important issue for Iowans.
"We were not only able to deliver for Iowans, we led the whole country [in education]. The fact that we are now 18, 19, 20 on the roster under this current governor, we all know we are better than that," DeJear says.
DeJear cited Reynolds' "consistent underfunding and defunding" of public education as one of the reasons for the current shortage of teachers and staff in public schools. She says current leaders have granted a 1.9% increase in funding over the past four years, on average, compared to the state's traditional 5% increase.
"As a result, we're now asking our educators in an incredibly trying time to do more with less, but more than more with less — it's more of a miracle with less," DeJear says. "I strongly believe that we can't really judge our education system right now. It's almost like we're starving the system and letting it fail, and we don't have to.
DeJear opposes Reynolds' school choice plan, which would provide taxpayer-funded scholarships to pay for private school expenses of 10,000 students. The Iowa Legislature failed to pass Reynolds' private education bill in its last legislative cycle earlier this year. However, Reynolds said she would make the education bill a campaign issue in this year's election and would continue to push for the legislation if re-elected.
"Over 95% of our students in this state are enrolled in public schools, and when you see the travesty that's going on with our school system and you turn your shoulder to it, then say, 'I'm just going to help 2% of our students," it's not responsible," she said. "It's not responsible, especially when you're using taxpayers' money to do this."
DeJear's education goals include increased compensation for educators, administration and public school staff to retain and attract talent; reinvest in business programs to help prepare a skilled workforce; investing in affordable child care for the entire state; and investing in and providing resources for student mental health.
"I want to make sure that we have at least a 4% increase on an annual basis in our education budget. We deserve at least that," she adds. "I also want to make sure that with these resources, we provide our 3 and 4 year olds with the opportunity to access at least 30 hours of preschool education each week."
DeJear would also invest in health care and mental health care statewide, saying voters in rural communities travel 45 to 60 miles to receive care. Some are also waiting six to eight months to see mental health providers.
"Due to our lack of resources, we are 45th nationally in the availability of mental health workers. We know this is not our place as a state," she said. "We have less than 600 [mental health] beds in this state for a population of 3 million people. It is unreasonable. We are perpetuating a crisis there.
But, DeJear says Iowa is "the petri dish of progress," citing the state as a leader in racial desegregation and same-sex marriage.
"That's why we can progress, because we believe in people. That's why I'm running for this race, because I believe in Iowans and I know what we're capable of," she said. "The fact is, when this pending issue is here – whether democracy is alive or dead – we cannot allow it to die… Unfortunately, the things our governor is doing, ignoring these basic, fundamental challenges that Iowans are feeling – it's undemocratic.
The general election is Tuesday, November 8. Early voting begins October 19.