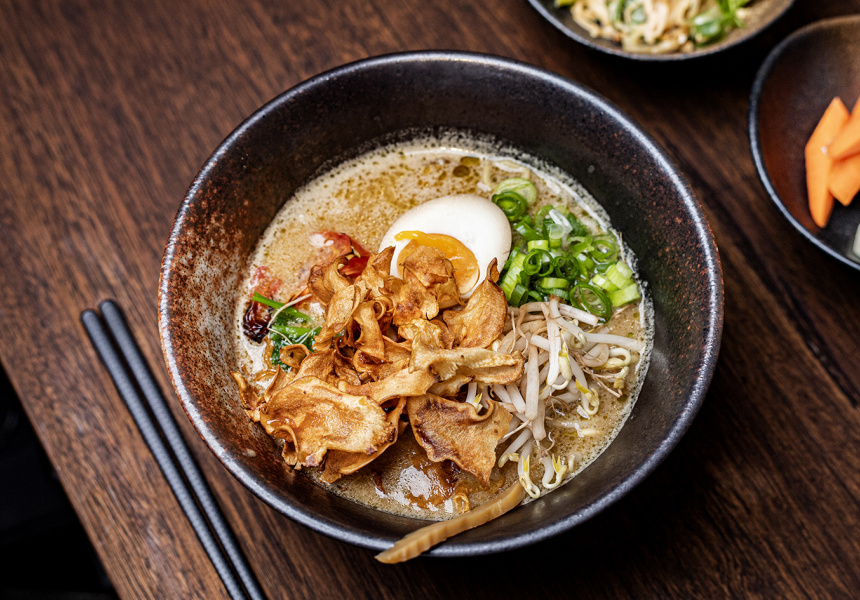 Crack Sydney's New Japanese Restaurants
There's something about Sydney and her adoration of Japanese cuisine. Maybe it's the high-quality seafood we get here that translates so well to the city's omakase restaurants, or we're just enjoying a hearty bowl of ramen on the go. Either way, our love affair with washoku (Japanese cuisine and the culture surrounding it) continues unabated, with a slew of new restaurants opening in the last few months alone. Here are five to check out.
Senpai Ramen, Chatswood
When Chase Kojima puts his name on something, you know you're going to eat well. The chef behind Sokyo and Simulation Senpai opened his singular ramen destination in a neon-lit Chatswood space in March, bringing the concept of an "omakase ramen" to Sydneysiders. While most seven-course menus change regularly depending on what's good – you can get sashimi, grilled fish and chawanmushi (steamed egg custard) – there's one dish you can always count: a bowl of luxury ramen. Diners have a choice of five dishes, including the thick, porky tonkotsu, a salt-based shio ramen with a hint of yuzu, and a miso butter and chili ramen. Dial up the luxury with the addition of abalone.
White Moon Bar, Newtown
By day, 277 Australia Street, Newtown is known as Tokyo Lamington, the cult dessert shop popular for its creative versions of Aussie cake. But at 5 p.m., Wednesday through Sunday, it reopens as White Moon Bar – a Japanese-inspired tachinome (standing bar). With just 14 bettors, it's a place to relax and enjoy a casual highball and snack. Like the pint-sized Tokyo tachynome it's modeled after, it's run by a small team: chef Jieun Lee (ex-Cumulus Inc, Supernormal, and Quay) and bartender Karen Kimura. The menus are just as small. Enjoy a cocktail of shrimp korokke (croquettes), miso salmon and mushroom karaage while sipping on citrus yuzu bomb, black market sake or imported Japanese beers.
Ante, Newtown
If anyone in this town knows sake, it's Matt Young, who has run the importer and retailer of Black Market Sake since 2010 – long before the drink was widely available or understood in Australia. Young brought his extensive knowledge, over 60 sakes and his personal collection of 2,500 records to Ante, a moody King Street venue inspired by the Japanese jazzu kissa, a type of music bar or cafe where people come to listen to music and have a drink. . Start your journey with a flight of three sakes tailored to your taste – whether you prefer it fruity, dry or a little unusual. Chef Jemma Whiteman is on call. His designs are by no means traditional, rather they reflect his experience in some of Sydney's most beloved kitchens including Billy Kwong, Lankan Filling Station and as one half of Pinbone. Think LP sausage with blood plums and green chili, tagliatelle with fermented shiitake and beef tartare with sesame and soy cream. As Young says, "It's just delicious food that accompanies sake."
Bones Ramen, Rushcutters Bay
Bones Ramen is one of those locking pivots that have become permanent. From executive chef and owner of Farmhouse and Jeremy & Sons, Bones Ramen continues the trend of small Japanese restaurants, with just 10 people inside and 10 outside. It offers four ramen (with the occasional special). Our choice ? Tokyo-style shoyu ramen topped with chashu pork, a sticky soy egg and watercress. The noodles float in a light broth made from pork bones and ribs, pork knuckle, chicken feet and kombu, seasoned with a complex barrel-aged tare (seasoning). Other options include a collagen-rich chicken ramen, a seafood option, and an umami-bomb vegetable number. Snacks are great shakes, too — think smoked chili potato salad topped with a raw egg yolk, brioche shrimp toast, and fried chicken thigh pieces with yuzu mayonnaise.
Bay Nine Omakase, The Rocks
Sydney has no shortage of omakase (a style of dining where the chef decides what you're going to eat) – and each offers its own special experience. At Bay Nine's 10-seat omakase bar, you'll be seated among the dramatic sandstone bones of a 1799 warehouse, watching chefs spin through hot and cold dishes based on the catch of the day. For a few hours, you'll be served an array of fresh nigiri and sashimi, as well as other dishes that may include Wagyu, abalone, grilled salmon, and tempura. Pair it with a delicate sake and you are in for a treat.
Additional reporting by Yumi Oba, Tim Piccione, Pilar Mitchell, Dan Cunningham and Ariela Bard.
Check out our guide to the best Japanese restaurants in Sydney here.