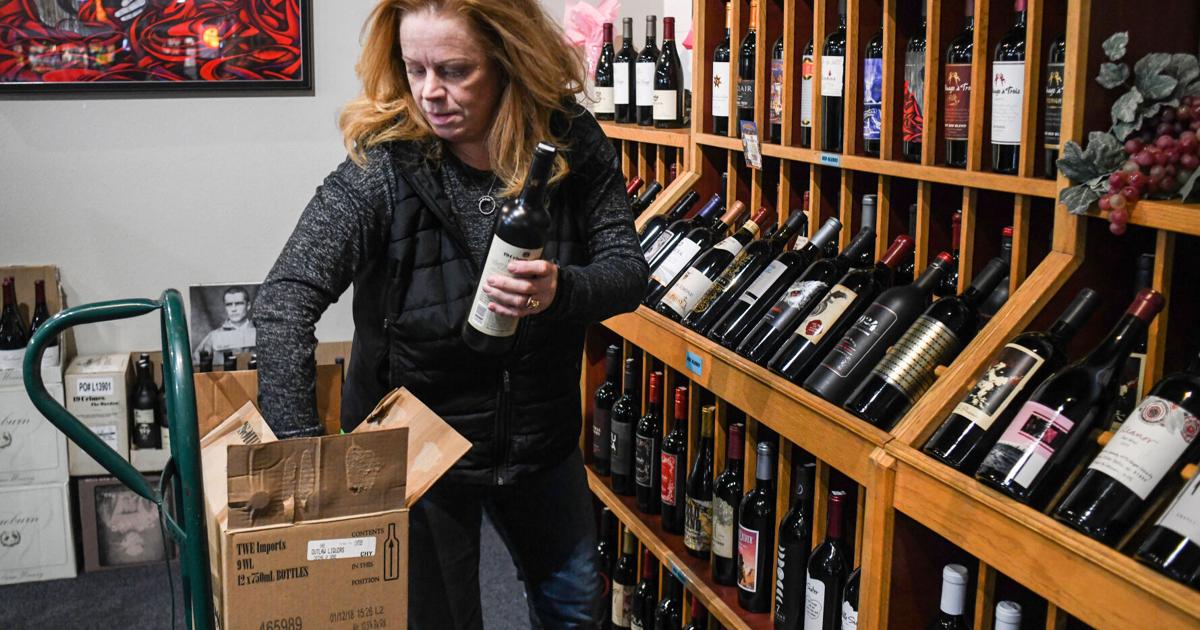 City Council Hears First Liquor Retail License Proposals | News
CHEYENNE — The Cheyenne City Council heard proposals Tuesday night from six of 11 candidates vying for a single new retail liquor license.
From golf simulators and entertainment to creative mixes of bars and bistros, entrepreneurs put their best foot forward. Only one can be chosen because the number of liquor licenses and permits available is based on Wyoming law and population. Since the 2020 census indicated Cheyenne's population has grown, another retail liquor license has been approved for local government officials to administer.
This leads to a competitive local market, some say. While some businesses may operate under the bar and grill license, other business owners will likely not be able to move forward with their businesses without the retail license. Candidates, city council members and Cheyenne Mayor Patrick Collins all advocated for updated liquor laws to approve more business proposals in the future.
"I like the entrepreneurial spirit that we saw. There were some very innovative projects," Collins said after the presentations. "And that just reaffirms my frustration with our antiquated liquor system, because these are all very good projects. We should be able to say yes to all of them, and right now we can't.
Local entrepreneurs were among the majority of presenters.
The next five candidates will present themselves on March 29. A decision will be made at the end of April. All residents wishing to contribute can attend the meetings on April 11, 20 and 25.
Ace range
This is for the golf and shooting range simulators, which would be located at the corner of 15th Street and Pioneer Avenue. The simulators would include 120 golf courses and offer a driving range experience, as well as target play similar to Topgolf.
The reason the liquor retail license is needed for General Manager JB Kunz to start his business is that it is not considered a golf course or a club. It does not want to include a full kitchen to prepare food, which would be required for a bar and grill license. Instead, he said he wanted to get food from downtown restaurants and prepare it for customers in their simulation bay.
"It's going to be a cool concept," Kunz said. "You'd get The Albany prime rib, sushi and coffee all in one, and you'd just be waiting for yourself."
The entertainment company's mastermind also plans to be heavily involved in the community. He is from Cheyenne and said he wants to invite high school teams, coaches and golf experts to use the facilities during the off seasons.
If the license is approved by the city council, he plans to open Ace's Range by October.
"We are ready to go and determined to carry out this project," he said. "I'm passionate about this game and I'm really excited to share that passion."
Big D oil
Clyde Mead operates 18 Big D Oil stores on the Front Range – nine in Cheyenne – and hopes to add one more. Convenience stores offer fuel and car service, restaurants, retail and grocery selections, and liquor.
Mead cited the company's financial stability, experience in the field, competitive pricing and variety of services. Last year, it had sales of $95.7 million and 60 local employees. The largest station, located on South Greeley Highway, serves 1,000 customers daily.
He said they are reliable for residents because they are open every day – even when the area received about 30 inches of snow last March.
"People were so happy we were there, and we were open because they couldn't go anywhere else," he said. "They couldn't even drive their car."
Pizza Pub Billy Jack
The developers of Billy Jack's Pizza Pub came from across the Nebraska border to share their proposal. Although the company's first casual dining experience was established in Kearney last year, it is growing rapidly and has seen a double-digit profit increase since December.
CEO Bill Winberg said he wanted to continue this momentum and had planned a second location for the Cheyenne Regional Airport, as well as a delivery center on the South Greeley Freeway. The pizzeria applied for the liquor retail license for the airport location, which would include a full-service bar. He desires the license to have the ability to respond to certain events.
"We pride ourselves on being part of a community and doing whatever we can to help the community," he said. "We just finished a big fundraiser for Girl Scouts because it was Girl Scout cookie season. We have several nonprofits that we help organize events and fundraise for, and we do a lot of catering.
He said the investment in the community was further proven by the fact that of the company's 100 shareholders, 60% were Cheyenne residents.
"Using their connections and reach within the community should provide us with a tremendous amount of opportunity to host catering events and showcase what we do," he continued.
Even without the retail license to meet needs, Billy Jack's Pizza Pub is expected to serve residents in May.
The railway spur
This is an effort to transform the West Edge Collective into a destination.
General Manager Chad Willett plans to turn the marketing office into a morning cafe-turned-bar in the evening, if approved for the license. The location at the corner of Lincolnway and Bent Avenue would also feature a shop offering small liquor packages.
"We really see this as a driver of economic development, with good paying jobs coming across the street," he said. "We see the ability of this to really grow and sustain itself quickly. There would be the café bistro, the artisanal cuisine of the food trucks and a very unique bar environment. There's not another like it in Cheyenne.
The renovation of the space would be done in two phases, first with the interior fittings. Willett would like to use the license as soon as possible, he said, which means the café-bistro and bar are ready by December 31. Then there would be a patio, outdoor seating area, and event space to host live music and DJs.
Willett said he expects $400,000 in liquor sales in the first year. Once the outdoor space is fully in place, he thinks it will hit $700,000 a year.
"It will be a destination for locals, it will be a very good attraction for tourists, it goes hand in hand with voter priorities and property values ​​will increase," he said.
Ike's Bar & Grill
Former Capitol Cuisine owner Brian Eicholtz hopes to expand his new business into southern Cheyenne. He wants the license to add opening hours, serve and sell wine and beer while customers prepare to go home.
"After three years of supporting and loving downtown, I had the opportunity to renovate and create my true passion," he said. "Ike's Bar & Grill was born."
His family business opened its doors last fall. In the past five months, he's made over $450,000 in gross sales, 26% of which is alcohol. Having the ability to sell alcohol over the counter in a retail business would boost the financial numbers. He predicted, based on previous restoration numbers from his downtown restaurant, that sales would increase by 8% to 12%.
As the American restaurant is already operational, the changes could be made immediately.
He said providing a space for restaurant patrons to relax, eat a good meal and spend time with family was an accomplishment in itself.
"I believe we've made the neighborhood a better place," he said.
Old Cheyenne Elevator
The owners of the former Cheyenne Elevator, located along the Reed Avenue Corridor project, dream of developing a downtown campus around the historic elevator. There would be local food trucks, shops, wineries and an outdoor gazebo.
"The OCE is ready to develop the grain elevator building into a unique gathering and entertainment destination," said developer Jenn Seitz. "OCE's vision is simple. There will be a phenomenal gathering space that will be a business incubator to inspire a thriving restaurant scene and promote local businesses.
Seitz is part of Ful-O-Pep LLC, which invests in downtown real estate. He developed the space for Blossom Yoga Studio and Hammock Fine Arts. She and her team presented the massive project that would develop over the next two years, with the first stage being a retail liquor store inside the elevator. She said she expects package revenue for craft beers and distilled spirits to start at $308,000 per year.