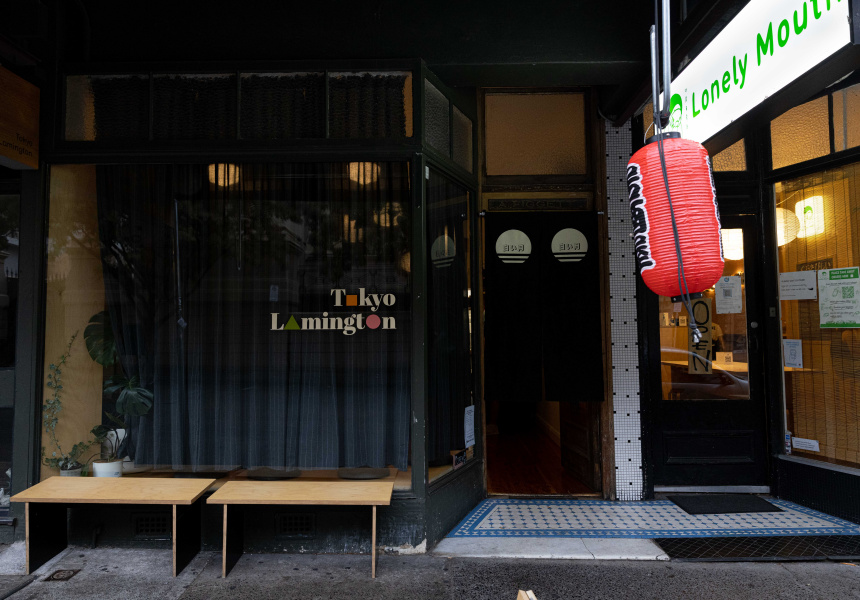 By day this little corner of Newtown is Tokyo Lamington, by night it's a Japanese-style bar
After months of lockdown-related delays, Tokyo Lamington owners Eddie Stewart and Min Chai have opened the White Moon Bar – a Japanese-inspired tachinome (standing bar) in the same building as its cafe.
The cult dessert shop closes its doors at 3 p.m. and from Wednesday to Sunday it reopens as a bar. The most noticeable difference is the hanging of a noren in the late afternoon – a traditional fabric curtain hung at the entrance to shops and restaurants in Japan.
Stewart, a former [Black Star Pastry] The chef and Chai, one of the founders of N2 Extreme Gelato, brought their dessert experience to the small Australia Street store in early 2021 when the pandemic prevented their plans from opening a location in Japan. If you've never walked through the doors of Tokyo Lamington, it's known for its creative takes on the classic sponge cake – fairy bread popcorn, tiramisu and yuzu meringue, for example.
Stewart and Chai realized the space could be used after hours, once their coffee was done for the day. They also longed for the type of tachynome they frequented in Japan.
"We missed the drinking culture there," says Stewart. "You finish the job, go home and there's a little local bar around the corner where you go get a highball, maybe some karaage. And it's your party.
The idea is to offer something casual and simple. A familiar place to relax after a hard day's work.
Stewart says he and Chai created the White Moon Bar as much for themselves as for the rest of us. "Saturdays, we finish work after being slammed, and now it's great; we can sit down and have a highball.
That's because White Moon's nighttime operations were handled by a team of two, like many standing bars in Japan. Chef Jieun Lee's menu (Cumulus Inc, Supernormal and Quay) offers simple, classic dishes, including a free welcome snack of crispy soybeans plus salt and vinegar.
There are pickled cherry tomatoes, aji fries (fried horse mackerel), prawn cocktail korroke (croquettes), and chicken or mixed mushroom karaage. Or for something more substantial, opt for the golden, crispy and warming katsu chicken or eggplant curry with rice.
Tokyo-born bartender Karen Kimura shakes up a small list of cocktails, with options like a refreshing, lemony yuzu bomb or a fresh lemon sour. The rotating sakes come from Matt Young's Black Market Sake, who recently opened Ante in the same suburb. And imported Japanese beers line the bar fridge. Or, you can order umeshu (a popular Japanese liqueur made by soaking ume plums in white liquor and sugar syrup for a year) neat, over ice, or in soda.
The simplistic interior is dotted with a sprawling indoor vine, a miniature vending machine dispensing Japanese Calpis water, and large pots of homemade umeshu on display.
"That's the best thing we love about this place – it just feels like you're in someone's living room," says Stewart. "You don't feel like you're in a restaurant.
At this time, White Moon Bar is only allowed to serve alcohol indoors. Around 14 people can comfortably sit and stand inside, but keep an eye out for outdoor seating in the near future.
white moon bar
277 Australia Street, Newtown
0404 662 397
Hours:
Wednesday to Sunday from 5 p.m. to 10 p.m.
whitemoonbar.com

@white.moon.bar