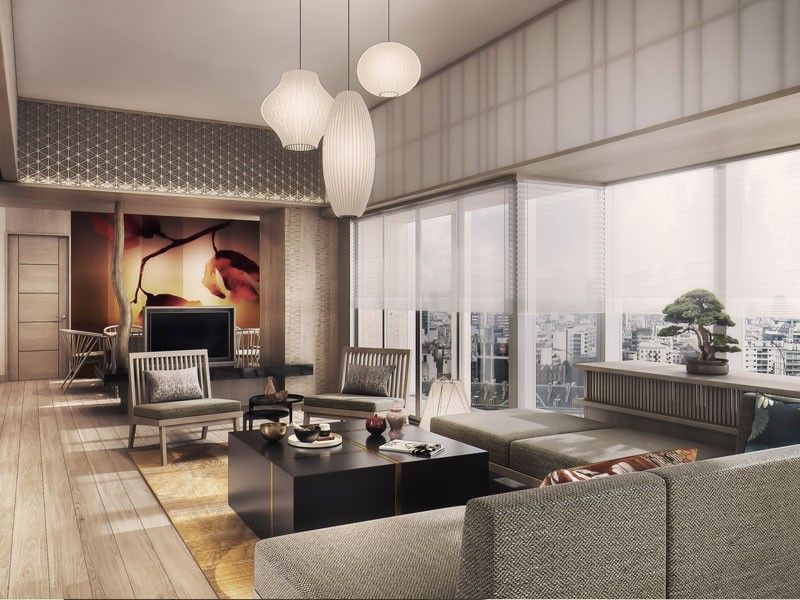 5 things to love about The Seasons residences, which are coming up soon
The Filipino star
December 24, 2021 | 12h00
Discover Federal Land, Inc.'s latest innovative residential development and its first Mitsukoshi shopping center in the Philippines
Manila, Philippines – Known for its technological advancements and ingenious innovations, Japan has become synonymous with high quality living marked by comfort, convenience and functionality. Reasonably, Filipinos have always regarded Japanese culture with the highest esteem. Soon, however, there will no longer be a need to travel outside the country to experience the Japanese way of life, as Filipinos can own a piece of Japan in the thriving metropolis of Bonifacio Global City.
Real estate developer Federal Land, Inc., in conjunction with Nomura Estate Development Co., Ltd. and Isetan Mitsukoshi Holdings, Ltd., presents a four-tower residential building inspired by the four seasons of Japan, with a four-story mall on the lower floors to offer several local and international Japanese brands. Rightly called The Seasons Residences, this development merges Filipino hospitality with the efficiency of Japanese design, welcoming discerning owners into a high standard of condominium living in the city.
1. Developed by the best in the world
In an effort to set a new global standard in the real estate industry, Federal Land has partnered with two leading international developers. One of them is Nomura, an expert in design efficiency who delivers harmonious, innovative and technological homes and facilities. The other is Isetan Mitsukoshi, one of Japan's largest department store groups. With more than 24 stores across Japan and 38 on international shores, it is now entering the Philippine market with the launch of Mitsukoshi Mall in The Seasons Residences. The four-story space is poised to become a world-class dining, leisure, shopping and entertainment destination.
2. Includes a shopping and dining destination for all things Japanese
Mitsukoshi Mall showcases Japanese-style life in the city. An entire floor will be dedicated to Japanese cuisine, as it houses a dining room with authentic high-end restaurants and a supermarket with a wide range of high-quality products including sweets and fresh produce. Another floor will be dedicated to beauty as it offers endless options for Japanese cosmetics, perfumes and beauty-related services. Aiming to delight buyers of different age groups, it also has separate areas for families with young children, such as the children's room and nursery, where parents can look after their little ones. and their babies between races.
3. Includes equipment inspired by the four seasons of Japan
Seasons residences bring Japanese culture to the fore. Channeling Japan's deep respect for nature, the residential building amenity floor is designed after the four seasons: Haru (spring), Natsu (summer), Aki (fall) and Fuyu (winter).
The first, Haru, emphasizes the importance of having an active lifestyle. This section houses the gym with top-of-the-range equipment, as well as a lush garden suitable for meditation. The second, Natsu, offers exciting summer-inspired facilities and activities like swimming pool, children's play area, game room, karaoke stations and function rooms for reunions and family reunions. . Third, Aki, Japan's creative fall season that The Seasons Residences channels through its business center and music studio – places where residents can unleash their ideas when inspiration strikes. Finally, Fuyu channels Japan's dreamy winter season through its wellness center and onsen.
A distinct convenience found at The Seasons Residences is the guest house. It has a Japanese-inspired tea room and a spacious bedroom, so that guests can rest, relax and experience the Japanese lifestyle on their own.
4. Built with world-class technology anchored by design efficiency
Seasons residences benefit from Nomura's expertise in design efficiency. This results in exceptional cleanliness through the use of ingenious amenities in all units, such as air wash tiles that minimize odor and Japanese range hoods with smoke capture and efficiency. high oil collection. Another plus is environmental friendliness thanks to indoor plumbing and Japanese lighting fixtures. Next comes maximized storage through the seamless integration of shoe cabinets, space-saving kitchen sinks, kitchen floor storage, and separate showers and tubs in some units. In addition, the residential building offers maximum security through the use of a state-of-the-art key card access system for elevators and main doors.
5. Disaster proof
Innovative Japanese technology is optimized to ensure security at The Seasons residences. Equipped with a sophisticated viscoelastic damper system, it allows the four towers of the residential building to withstand strong winds and vibrations that can be caused by earthquakes and typhoons. This shock absorber system is used in some of the tallest buildings and structures in the world, including the world's longest suspension bridge, the Akashi Kaiky? Bridge in Japan.
Own a piece of Japan in Bonifacio Global City. For more information on The Seasons residences, visit www.theseasonsresidences.ph, E-mail [email protected] or call the hotline at (632) 359-6756 to book a private session.